19 Cool Patterns for Crochet Curtains
Are you bored of using the bland drapery and blinds to style the windows? Maybe your hands-on experience in crocheting could spice your living space, kitchen, and bathroom in a more creative way. There are umpteen yarns that you can sit with to add some colorful hues to the otherwise plain-looking curtains. Just have a look at the following patterns to make some pretty crochet curtains.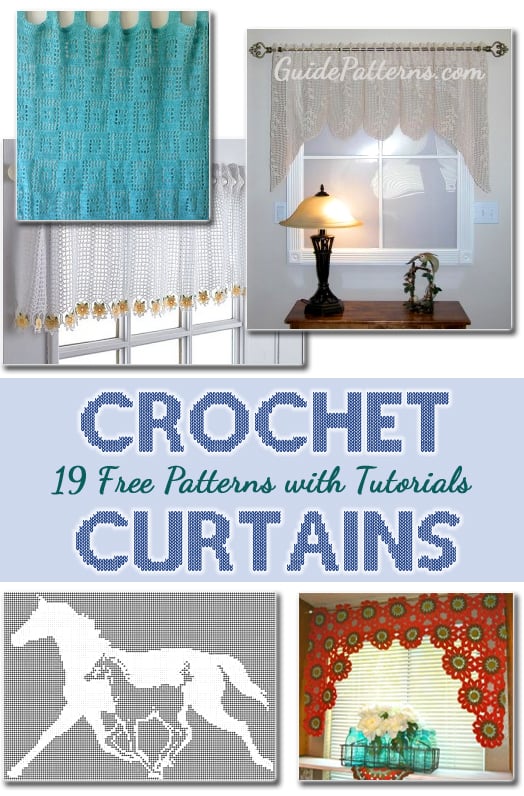 Crochet Curtain for Kid's Room
Double crochet-stitched flowers impeccably joined to create an exceptional-looking curtain to up the interior decorative value of your house. A bunch of painted mason jars ornamented with fresh flowers can be kept on the window sill as a complement for the crochet décor.
Crochet beginners can work upon this pattern for some cool window fashion.
The light-textured crochet curtain interpreted in geometric squares lends a soothing effect, especially when you are catching up with an afternoon nap on a hot, sunny day.
A captivating pattern with a plain color scheme adds a magical effect to your home furnishing décor.
A crochet curtain featuring a chevron pattern is enough to enhance the aesthetic appeal of your interiors working out well for all the windows in your home.
The lace crochet window covering makes the outdoor view worth admiring when you sit relaxed on your couch sipping a warm cup of coffee. What else do you need to glorify your mornings?
Give your crochet curtain a modern, fitted look with few ruffled trims at the edges. Bet the guests with a conservative taste will swoon over it.
A flower crochet tieback gives an elegant spin to your modern drapery adorning the windows creating a completely new look.
Whether you want to decorate the windows or use the crochet valance as a wall hanging décor, it spells the same ecstatic charm.
Enliven the little windows of your kitchen with a triple treble crochet-stitched curtain bringing the perfect summer garden home. Embroidered with a string of flowers, it puts in the right dose of refinement to the interiors.
The warm feel of the crochet curtain captures the essence of the fall styling the windows against a dark, crisp background.
Crochet Pattern Curtain
Ideal for the window ensemble, you can coordinate the crochet drapery with the rest of the décor elements in the room for both traditional and contemporary spaces.
Bathroom Curtain Pattern
Free Crochet Pattern for Curtain
Another hairpin crochet lace pattern featuring attractive solid colors letting the first rays of sun seep in and pull you up from the bed.
The serene design of the crochet curtain has a detailed pattern that is easy to work up on if you have the basic crocheting skills.
As only a few weeks are left for Christmas celebrations, spend the holidays crocheting curtains to give a facelift to the bare windows. You can think of some other unique patterns for some interesting crochet drapery works.