Buy Macrame Cords, Supplies, Rings and Books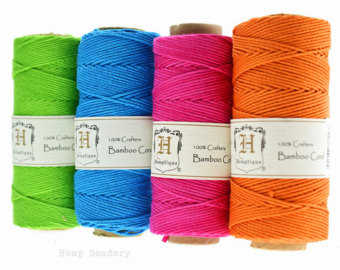 Macrame Cords 
Using the right type of macramé cord for your project is very important. If you are facing difficulties choosing or getting the right cord for your design, then check these varied collections now.
Macrame 6mm Cord

This is the perfect choice for all fibre crafts be it macrame , knitting or crochet. Available in a variety of colours and patterns to add a modish touch to your project.

Micro Macrame Cord

These supremely thin micro macramé cords are ideal for intrinsic designs of jewellery making and bracelet designs.


 Bonnie Macrame Cords

Made from 100%plyproplene Bonnie Macrame Cords are the highest  in terms of quality. They are used in chair frames, plant hangers, rugs and other home craft projects.


 Hemp Cords

Available in 4 sizes hemp cords are a great choice for scrapbooking, jewelry projects and crafts, making it high quality  with its smooth finish.

Macrame Supplies & Rings

Explore a full range of Macrame supplies, tools and rings required for your macramé projects. Chose the right kind of tools for your macramé projects to express your creativity.

1

Macrame Board for Braiding

Create wonderful cord designs using these light weight macrame boards. These are ideal for braiding and cording and can be used for multiple projects. The surface of the board has grids which make measuring and cord management easier.

2

Macrame Rings

Macrame Brass rings come in different thickness and sizes and are used in a wide variety of crafts. They are used to strengthen and support circular macramé projects and can also be used as an accessory in the design itself.
Macrame Books

From simple illustrations for beginners to detailed techniques for experts these Macrame Books are comprehensive for all users. Find a diverse range of patterns & creative ideas for your macramé projects.

 1

Micro Macramé Basics & Beyond: Price: $14.66

With a focus on techniques, this book also teaches jewelry makers how to incorporate beads and crystals into their macramé jewelry to make each piece their own, taking macramé from a craft to an art.

2

The Macrame Book

The best book for beginners to start out with! The illustrations provided in this book are very simple to follow. It features some outstanding designs by contemprorary artists along with the author's expertise.