18 Easy Crochet Lace Tablecloth Patterns
Tablecloths look beautiful when done in delicate crochet work. You will want to invite your friends and relatives over for weekend parties and get-togethers for the sheer resplendent effect they give to your room. Sitting down for everyday meals would also be a pleasurable experience.  Listed below are some endearing patterns for you to savor.
Beautiful Crochet Pattern for Tablecloth
Here is a lovely work of art. The finely crocheted patterns will add a classy dimension to an otherwise dull looking table.
Easy and Quick Round Tablecloth Pattern
This fun crochet tablecloth pattern can be done in just 12 hours! If you enjoy mixing colors, this pattern is for you.
The magnificent tablecloth in white cotton yarn can change the ambiance of your house any day. You can accessorize with crockery in floral designs to give your room a bloomy feel.
Sophisticated Tablecloth Pattern
Showcase the stunning lacy pineapple pattern by placing it over a solid colored tablecloth. You will love crocheting the yarn through your fingers.
An ornamental tablecloth can be a perfect wedding gift. The glamorous cascade style given here is sure to strike a chord in one's heart.
This cute design of tablecloth has miniature hearts thrown all over to make for a lovable design. It will add a romantic charm to your dining room.
Given here is an artistic piece that will demand plenty of your time, but once you are done, we bet you cannot take your eyes off it.
Crocheted Christmas Tablecloth
Wondering what to gift your loved one on Christmas? This lush green round tablecloth would befit the occasion. Embellished with gold beads, this arty décor has an ornate ring at the center flanked with peppy Christmas trees all over.
Planning for a romantic candlelight dinner? You will love crocheting this heartwarming tablecloth having roses strewn along its edges. The stunning bold red and pristine white color combo is sure to make the night magical.
Crochet your way into the 1950's with this pretty pattern. Old world charm never goes out of style if done the right way. Accessorize with some vintage showpieces on the table.
Lacy Openwork Crochet Tablecloth
Are you averse to knitting large tablecloths? This round crochet work will take much less time while at the same time being perfect for weddings and summer dates. Use of mercerized cotton yarn is recommended to keep the cloth fresh and crisp.
Crochet up a storm by following this pretty pattern. It is a classic floral artwork. The cute pink hue of the border gives it a chic appeal.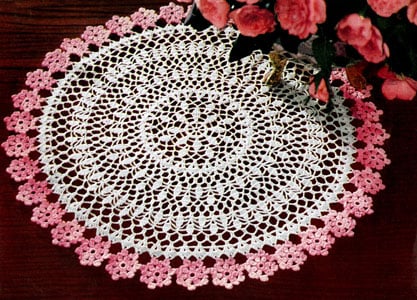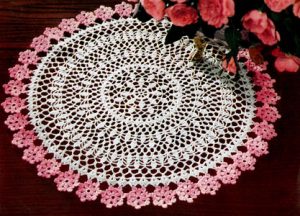 Fans of the bygone era will find this elaborate crochet pattern hard to resist. Etched in jonquil flower motifs this carries the vintage aura with aplomb.
This round crochet piece is built using a pineapple pattern. You will love to bite into it!
Filet crochet patterns are mainly worked with the chain and double crochet stitches. This piece of filet crochet bears an attractive floral pattern. It's apt for any special occasions.
Crocheted Tablecloth in Pineapple Pattern
Pineapple crochet patterns on tablecloths have stood the test of time. Ask your granny about it and she can't stop talking about her first pineapple crochet design. Even today, it spells out a strong style statement and just can't be ignored.
Crochet Tablecloth for Your Home
Use Puritan mercerized cotton to weave this adorable tablecloth seethed with square motifs.
Watch this YouTube Video in 9 parts to hand-crochet this exquisite design. You will simply drool over it.
Hope you loved our patterns and looking forward to experiment with your crocheting skills. You will cherish the journey and the end result as well. Feel free to share with us your crocheting experience and your creations.