30 DIY Aquarium Stands with Plans – Updated 2022!
An aquarium stand adds to the looks of your fish tank by acting as a beautiful prop. You can build an aquarium stand of your own creatively by following this set of tutorials. What's more? It will serve as a brilliant conversation starter and when you play host, guests cannot stop themselves from exclaiming at it.
The beefed up structure featured here is suitable to support 180 gallon systems. You need to reinforce your floor that holds this massive stand in place. It befits reef tanks as well.
You will be bowled over by this dapper aquarium holder made of dimensional lumber and plywood. This aquarium stand design befits 55 as well as 120-gallon aquarium tanks. 30-180 gallon tanks could be planned by tweaking the plan a little.
This voluminous aquarium stand raises your fishes, fries and reefs to a whole new level, not only in height but also in aesthetics. The instructions in the linked post help you to build the stand in three simple ways.
This project presents you with a cheap alternative to buying a stand for your aquarium. It will be heartwarming to see your adorable pets swimming about over your handmade stand. A beautiful dimension to your interior décor, isn't it?
Not a very high level of wood craftsmanship is demanded by this minimal plan to host your finned pets. Scraps come in handy during the build, so keep saving them for later as you proceed with the design.
The roomy cabinet that you will learn to make here boasts of excellent architecture. It gives easy access to feeding the fish and cleaning.
The instructions given in the linked post will walk you through the steps to construct this big aquarium stand that holds a 29-gallon fish tank in the upper rack and a couple of 15-gallon tanks in the lower lack.
You might go wrong with the commercial aquarium stands as at times; they don't support your fish tank well while at other times you don't like their designs. Presenting here a simple plan that can be customized according to your needs.
Make a cozy nook at the corner of your house with this charming aquarium stand. Your colorful fishes and aquatic plants will look pretty swaying, tossing, turning and of course, swimming in this burly structure.
How to Build a Fish Tank Stand: Video
Here is a comprehensive step by step to make your own aquarium stand that sits pretty to enhance the beauty of your interior décor.
Put your 40-gallon aquarium on this gorgeous piece of kiln-dried woodwork. Reap the benefits of this sort of wood with shrink and warp proof frames. The instructions come illustrated with the plan.
We have here a video tutorial to build an aquarium stand on your own in simple steps. The design is suitable for 29-250 gallon fish tanks.
You do not need to burn a hole in your pocket to give a dapper stand to your aquarium. This step-by-step explains you how. It is perfect for both 29 and 55-gallon tanks.
Large Fish Tank Stand with Canopy
This wonder in wood can support a massive 125-gallon aquarium with ease. The directions come with the detailed plan and illustrations of the progress. The canopy makes the design unique.
Utilitarian Corner Fish Tank Stand
This cheery piece saves on the floor space while adding on to the aesthetics of your den.
A sturdy woodwork piece such as this comfortably hosts a large fish tank. It boasts of ample storage space and a classy design.
Building Aquarium Stand at Home
Put your scrap wood to good use by giving shape to this neat prop to your aquarium. A fine house for your aquatic pets, isn't it?
How to Build An Aquarium Stand
What's better then diving into a DIY project which you are passionate about, look at this tutorial to find out how to build one yourself!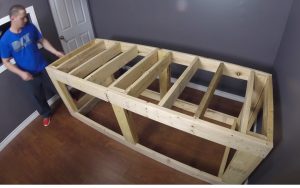 Building an Aquarium Stand (5'x2'x2′)
Only for pro's who know what they are doing in the DIY world, you could truly benefit from this one.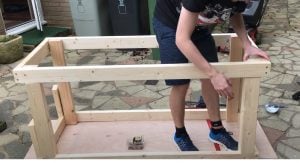 Fish Tank Stand of Heavy Build
Unique Aquarium Stand Design Idea
Wonderful Fish Tank Stand Plan
If you are good at woodworking and wood finishing, this project would be quite simple for you. It will be a great learning experience for the beginners in the craft to make this DIY fish tank stand.
This design of aquarium stand can hold around four 55 gallon fish tanks. Though the video tutorial depicts painting in black, you can use white or any other lighter color of your choice to match the color of your walls.
How to Make Your Own Wooden Aquarium Stand
You can adjust the length and breadth of the design to make it suitable for 55 or 180-gallon fish tanks. The tutorial requires you to have the basic carpentry skills.
A clear step-by-step with explanatory pictures of the plan describes this tutorial.
This unique design of aquarium stand looks vintage and can house a 75-gallon hexagon fish tank.
Stun your guests with this spacious piece of woodwork that props up your finned friends with elan.
You can go about the building process using a variety of materials such as oak, iron, etc. Just gather up the tools and get to work. You can get creative regarding the front panel design, paint and polish of your project.