14 +Beaded Animal DIYs
Beaded animals are a wonderful pastime to keep yourself and your kids engaged. You could make a whole lot of creatures using different varieties of beads be it big ones, small round ones, colorful plastic ones like perler or even pony beads. Check out to know interesting tutorials to make bead animals.
1. How to Make a Panda with Beads
A row of cross stitches has been made to form the body. The ears, feet, hand and tail has been designed using the black beads.
2. Beaded Frog Pattern Tutorial
Pony beads woven into a distinct pattern helps in making this interesting beaded frog.
3. Cute Bead Animal Keychain DIY
An amalgamation of colorful beads makes up this pretty animal keychain.
4. Easy Way to Make Beaded Keychain with Perler Beads
With colorful Perler beads, you can create a whole lot of such animal-shaped magnets and key chains.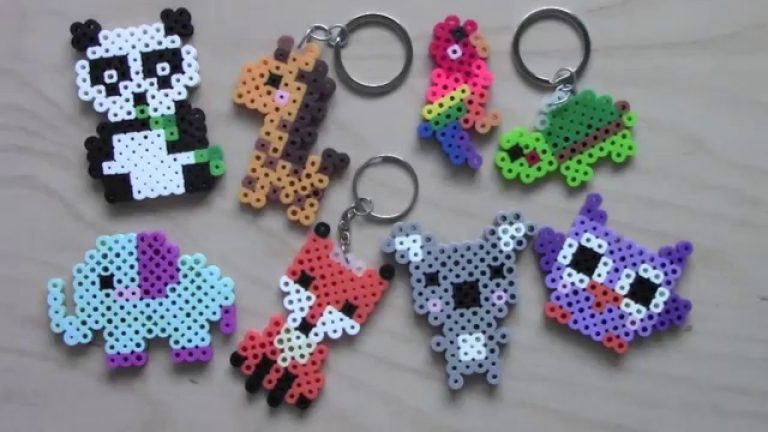 5. Dog Animal Pattern with Pony Beads
Stringing pony beads together would help designing this adorable dog. You could even string a cute tail to give it a realistic touch.
6. Giraffe Animal Pattern Using Perler Beads
Yellow, dark brown and black beads creates this giraffe. Designing the pattern on a pegboard would help you get the shape right.
7. How to Make Dolphin Beaded Animals
8. How to Make A Cute Perler Bead 3D Easter Bunny
These lovely beaded rabbits could be shaped into key chains or even as mini centerpieces and given as Easter gifts.
9. Easy Instructions to Make Beaded Animals for Beginners
10. Instructions to Make a Beaded Giraffe Keychain
You could go for a smaller size if you desire to make it as a charm.
11. How to Make a Beaded Turtle
The light and dark green bead alongside the black ones makes for a lovely turtle.
12. Pony Beaded Snake Instructions for Kids
The arrangement of two and four beads alternately gives it a unique look.
13. Perler Bead Unicorn Instructions
The white bead for the face and the rainbow-colored ones for the rest of the body along with a black button eye give the unicorn an increasingly interesting look.
14. How to Make a Cute Fox with Perler Beads
You could make just small showpieces, key chains, magnets for your refrigerator, charms for your bracelets and necklaces and a lot many things with these wonderful beaded animals.