12 Fire Pit Swing Plans
Fire pit swings allow you to laze around outdoors around a fire. You can swing and feel the warmth of the flames as you soak in the natural ambiance. The DIY tutorials walk you through the steps of building one of your own. You can have any number of chairs, benches or seats around the central fire pit.
This is an amazing idea of fire pit swings. The design looks complicated but can be made easily with the above-linked plan and dimensions of the wooden pieces. You can have 2 to 4 seats in a circle around the fire.
2. Gorgeous Fire Pit Swing Set
You can have square chairs or benches around the fire pit in your patio, porch or backyard. The design is awesome and you would like making it.
3. Fire Pit Swing to Decorate Your Porch
The picture of this awesome fire pit swing would motivate you to build one of your own. The tutorial with guide you through the steps of the project.
4. Guide for Swings around a Fire Pit
Isn't it fun sitting in the cool breeze outside chatting with your friends and family? A fire pit swing allows you to do that in style. You can also have a sumptuous brunch, lunch or dinner sitting around the fire.
The instructions of this video tutorial are quite straightforward. You would love a breath of fresh air as you sit outside on the swing with your favorite book.
6. Three Swing Fire Pit Instructions
The black frame of this fire pit swing looks suave. The swing set surrounding the fire pit makes it look classy. You would have many memorable moments sitting on the cozy hanging benches.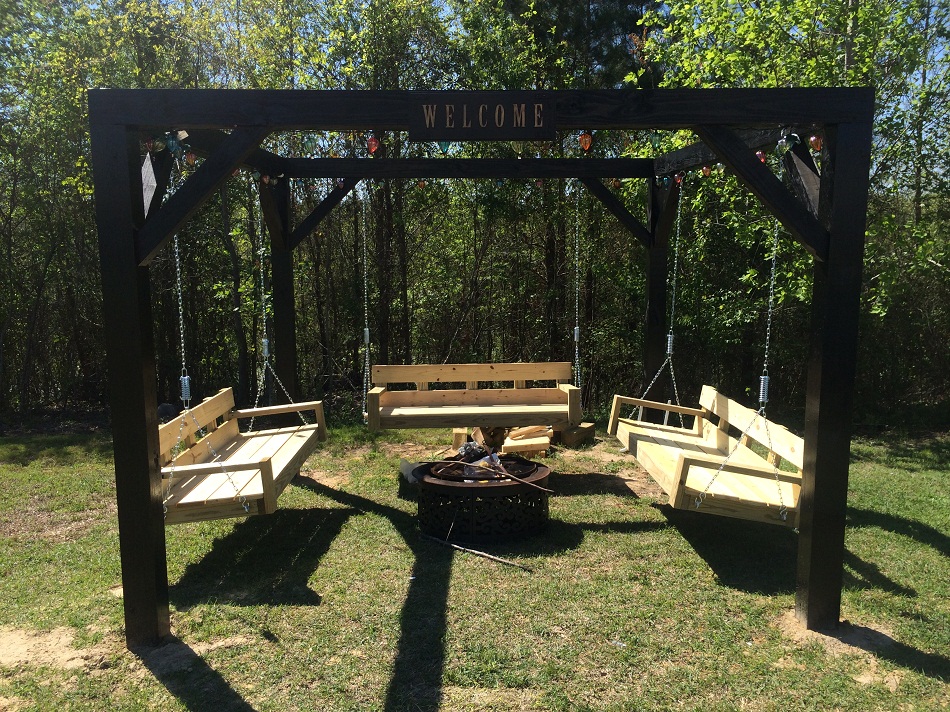 7. DIY Tutorial for Awesome Backyard Fire Pit with Swing Seats
8. DIY Cool Fire Pit with Hanging Swings
9. Hexagon Fire Pit Swing Plan for the Porch
10. Fire Pit Surrounded By Leisurely Swings
12. Steps for Building a Fire Pit Swing
We are sure that the pics above would have convinced you by now to build fire pit swings to enhance your outdoor décor. Call your friends over for the weekend and have a gala time chatting and having delicious food. And be ready to be showered with compliments for your woodworking skills.