59 Free Crochet Potholder Patterns
This autumn, upgrade your kitchen decor crocheting pretty potholders. As party favors, holiday gifts, or table accessories, potholders would make your coffee drinking more enjoyable. Get ready with your needle and colorful yarns for trying out the following interesting tutorials.
1. White Crochet Potholder Pattern
Crochet a cozy potholder using a basic Afghan stitch to spice up a dull breakfast table.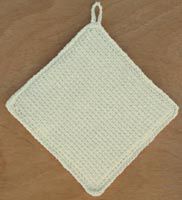 2. Crochet Pot Holder Tutorial
When your potholders look so fine, you wouldn't mind sipping coffee anytime of the day.
3. Beginner Single Crochet Potholder
The exotic shades of blue, white, and green lend an ocean-like effect to the potholders. You can experiment with other colors as well.
4. Perfect Potholder: Free Crochet Pattern
The combination of beige and white is sophisticated and sublime. After all, winter is the season of light colors.
5. Puffy Scrap Yarn Pot Holder
Add a pop of color to your kitchen décor for a refreshing start in the morning. The puffy potholders would help keep the winter blues away.
6. Granny Stitch Crochet Potholder
Give a personalized touch to the cozy potholders with touches of pink and blue for a warm effect.
7. Crocheted Double Thick Diagonal Potholder
8. How to Crochet an Easy Potholder
9. Chicken Crochet Potholder Tutorial
The cuddly chicken will see to it that your mornings do not start on a dull note. Crochet a little flower to the potholder for a more appealing look.
Be it potholder or coaster, vibrant crocheted patterns on the table are a delight.
11. Chicken/Rooster Potholder Pattern
Taking some inspiration from the tutorial, you can try crocheting a hen or turkey, making minute changes in the pattern.
13. Double Sided One Piece Hot Pad/Pot Holder
The modish crochet potholder pattern involves a double stitch. Keeping large teapots would now be easier.
14. How to Crochet an Apple Potholder
The luscious apple potholders give your coffee table the extra punch, as well as make wonderful gifts for beverage-addicts.
15. Vintage Hexagon Potholder Crochet Pattern
Rather than sulking during the winter, you can celebrate it as tea and coffee months, crocheting these hexagon patterns.
16. Free Crochet Blossom Potholder
If you want to increase the visual look of your kitchen space, then the lovely floral-designed potholders are at your service.
17. Single Crochet Potholder Pattern
The age-old tradition of crocheting can never get boring as your home would now and then need major style change.
18. Red, White and Green Christmas Potholder
19. Easy Round Crochet Potholders
The array of patterns looks stunning, matching with any décor setup. As hostess gifts, you no longer have to break the bank.
20. How to Crochet a Potholder for Beginners
The single stitch crochet pattern is convenient for those crocheting the first time.
21. Round Potholder Crochet Pattern
22. Country Love Crochet Potholder
Crochet a beautiful heart for your Valentine to add an extra dose of romance.
23. Free Potholder Crochet Pattern
You can't overlook the classy spiral pattern, especially when it brings a bare table back to life.
24. Shell Magic Potholder Crochet Pattern
A white potholder never fails to make a style statement. Just be careful while handling the pot of coffee.
25. Crochet Potholder Tutorial
The good old owl has become a part of every crochet pattern. So, when you are making a potholder, it's difficult to give our nocturnal buddy a miss.
26. Easy Crochet Potholder Pattern Free
It may not be summertime, but you can always keep your love for strawberries alive even when the weather turns harsh outside.
27. Diagonal Crochet Potholder
28. Fried Eggs and Bacon Potholder Crochet Pattern Free
A brewing cup of coffee, fried eggs and sausages is the best breakfast on this planet. Don't you agree?
29. Crochet Dress Potholder Pattern Free
You can dress up your table for a tea party. Be ready to handle all the compliments coming from the guests.
Here is an interesting pattern to accessorize your kitchen. Don't you love the multi-colored base?
31. Easy Potholder Crochet Pattern
Although the tutorial is about making a crochet light bulb, the design is exactly similar to an acorn.
32. How to Crochet a Left Handed Potholder Step by Step
33. Crochet Butterfly Potholder
Express your creativity making a flamboyant crochet butterfly potholder. Using yarns of different colors would be the fun part of the project.
34. Crochet Potholder Pattern for Festival
Adding the cute little horns to the Teddy turns it into an adorable reindeer. Here's another Christmas accessory for decorating your home.
35. How to Crochet a Basic Pot Holder
36. Crochet Easter Bunny Hot Pad Potholder
The cherubic bunny potholders laid on your Easter lunch table will surely be a huge hit. All can feel the coziness in the air.
A cup of tea or coffee is incomplete without a cupcake. Make it the staple pattern for this season.
Note the orange hue that adds charm to the daisy potholder. You can do it up in other tones, retaining the elegant effect.
40. Free Fish Potholder Pattern
The interspersion of yellow, white, and blue gives character to the pattern.
What's Halloween without Jack-O-Lantern? The perfect way to give a twist to the Fall decoration.
43. Leaf Potholder Crochet with Instructions
Now that you have lots of flower patterns in your kitty, here is a tutorial for crocheting a leaf.
44. Celtic Knot Crochet Potholder
The tutorial provides a free download link that you can click to get the pattern.
45. Little Pig Potholder Pattern Free
Do your kids love Peppa Pig? Give them a pleasant surprise presenting a charming pig potholder.
46. Crochet Horse Potholder Pattern
The pattern is going to draw anyone's attention sitting on the table and sipping some tea.
47. Free Spiral Crochet Potholder Pattern
48. Octagon Granny Afghan Potholder
Geometric patterns are stylish, enlivening the art of contemporary crochet.
49. How to Crochet a Coffee Cup Potholder
A must-have for every home, the coffee cup design is a great addition to your table setting.
50. Sunflower Potholder Crochet Pattern
51. Blue Snowman Potholder Pattern
The little snowman will make your heart melt, bringing all the childhood memories of playing in the snow back.
52. Santa Claus Crochet Potholder
The triangular Santa Claus is one-of-a-kind pattern you will cherish even after the holidays.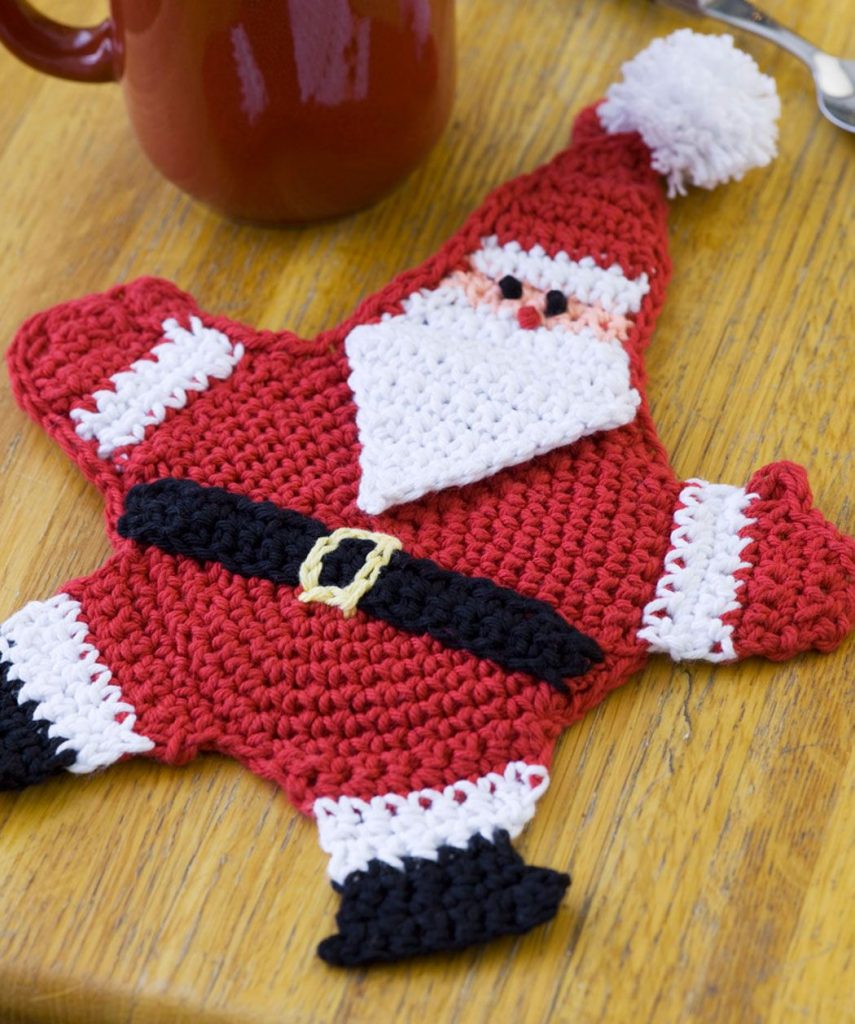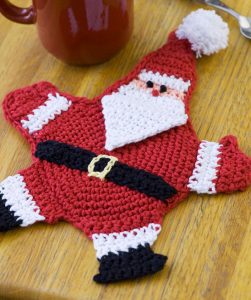 53. Free Crochet Potholder Pattern for Christmas
54. Crochet Pattern Pineapple Potholder
Since it is a potholder, you need to occasionally give a good wash so that the colors continue to brighten your surroundings.
55. Crocheted Watermelon Potholder
Summer is incomplete with a slice of watermelon. You can't eat it but treat your eyes.
56. African Flower Crochet Potholder
57. Crochet Cat Potholder Pattern
The big cat is keeping an eye on you so that you don't indulge in too many cups of coffee.
58. DIY Crochet Gingerbread House Potholder
59. Snowflake Crochet Potholder
Have you taken your pick? Hope you have a gala time making the potholders. Don't forget to share your experiences.