How to Make a Cloud Lamp (Cloud Light): 25 DIYs
There are so many of us who love to try out innovative lighting ideas for their homes. A DIY cloud light helps you make a mark in this field by honing your creative skills. You don't need to program, use complex Android apps or circuitry for the handmade clouds. However, you might try playing with different colors of lights for some drama, with a remote control.
1. How to Make Your Own Cloud Lamp
The materials for this project include a couple of paper lanterns, wooden dowel, fishing line, batting, hooks, string lights and a glue gun. It is quick to make.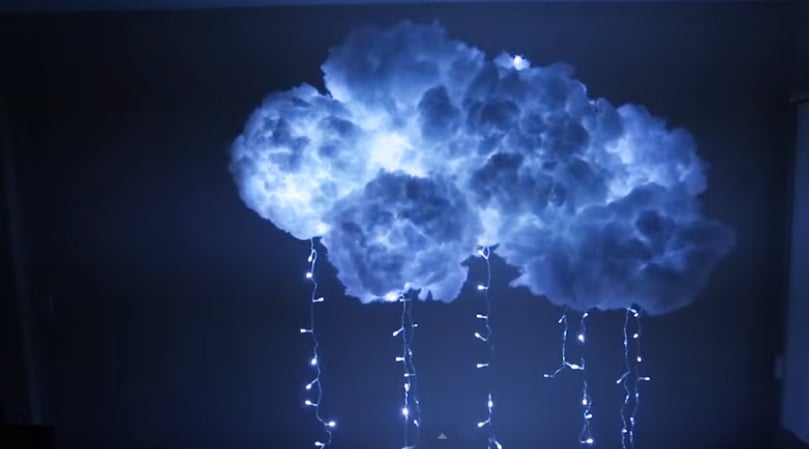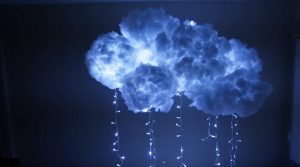 2. Cloud Light DIY Instructions
This cute cloud light changes colors. You can make it glow, strobe, fade, stay in one color or display rainbow colors using a remote control.
This fluffy cloud would suit a kid's room. If you are making it for your bedroom we bet lying down beneath it would be a relaxing experience.
This cloud light could be an awesome decor for a baby shower. A child's room or playroom would also look dramatically elegant with these lamps.
Clouds give us respite from a sultry weather by giving us hope of rain. Creating your own cloud light could recreate the natural phenomenon.  You would need a destroyed pillow or stuffed animal for the cotton, hot glue, empty bottles and Christmas lights.
Transform a Chinese lantern into an ethereal LED cloud light that can go straight into your little one's room once done. You can hang globular string lights from it to give the effect of rains.
This brilliant storm cloud light can transform the entire environment of your home by lighting up in different ways. The storm effect is a plus. Who doesn't love an indoor storm on a hot summer night?
Turn your room or nursery into a gorgeous and surreal space with a cloud light. You require cotton batting, a paper lantern, fishing wire, glue gun and battery powered LED light.
Clouds have enthralled us since childhood with their unique shapes. Create a cloud form of your own with the help of the above-linked DIY that comes with explanatory images.
11. DIY Led Cloud
The steps involve gluing cotton batting to a paper lantern, slitting the paper lantern open and putting a LED light inside, closing the opening and hanging the arrangement by a string.
15. How to Build a Thunderstorm Lamp
You would need cotton batting, paper lanterns, cool LEDs and a hot glue gun for this project. Your bedroom would look dreamy and mystical with these.
17. Create a Cloud Pendant Light
18. Artistic Indoor Cloud Light
20. Dreamy Cloud Night Light DIY
21. DIY Cloud Light Easy Instructions
You would love the fun and simple technique involved in making this light up cloud. They really make your room stand out. Try it as a holiday decor and night light.
This cloud lamp is super easy to make and can beautifully transform your reception hall. Apart from using it conventionally indoors, you may do it for outdoor ceremonies too.
24. Make Your Own Cloud Light for Baby's Room
The tutorials are pretty clear, lucid and simple. They don't need a lot of tools and can be made quite fast. Who doesn't love to look up at the clouds while lying down on his bed? They minimize the strength of the lights and create a relaxing ambience that lulls you to sleep.