How to Make a Jelly Roll Quilt: 49 Easy Patterns
The hordes of colorful fabric rolls you have anytime stumbled upon at the store are actually the elementary materials needed to make a cozy quilt. A bit different from patchwork quilt, the uniqueness of jelly roll quilt lies in its fabulous display and quick-sewing technique. Have a look at the following tutorials to create a work of art without going to any specialized quilting classes.
The zig zag pattern is a work of triple fabric strip squares sewn together for the magical effect that will stand out.
Be My Valentine Jelly Roll Quilt
Wouldn't it be a heart-warming gift for your dear hubby? The colorful hearts scattered on the bed look really pretty.
Backing and Basting Jelly Roll Quilt Pattern
Piece together pumpkins, bats, and many other elements of Halloween to stitch up a frighteningly stunning quilt displaying your artistic side.
Simple Jelly Roll Quilt Tutorial
Do you need to visit a fabric store for bedspreads when the best one could be made right at home? The vibrancy brought in the design is enough to give a daring quilting competition.
A cot quilt for your little princess with exotic jelly rolls could be the next quilting project for the holidays. Can you already feel the warmth and coziness?
Challenge your quilting skills working on a pattern never done before that throws splashes of colors on the bed adding elegance to the room.
How to Make Jelly Roll Quilt Top
A staple pattern you have to try as a hardcore quilter. Interspersed with polka dot strips, the gorgeous bed cover is a must-have in your bedding collection.
Jelly Roll Quilt Fabric Strips
Another timeless quilt pattern made with jelly rolls, giving some insight into the traditional style of making quilts.
The multicolored strips at the center against the white background have a pleasant summery feel compelling you to go out picnicking with family.
Strip and Flip Jelly Roll Baby Quilt
The bright patches on the handmade creation make up for a soft and cushiony throw for your newborn when it gets insanely chilled outside.
Baby Quilt Made with Jelly Rolls
Keeping it as simple as possible, the unique shades on the quilt are eye-catching making it the perfect baby shower gift.
Jelly Roll Race Quilt Tutorial
Sugar Pop and Change Jelly Roll Quilt
There is no dearth of cool printed fabric strips at the store. Just grab a couple of them and get started on the project.
Instructions for Super Fast Jelly Roll Quilt
Another quilt with bold straight lines you would love to work upon for giving a quick makeover to your bed.
You can't go wrong pulling off a race quilt that spells a charm on anyone entering your room.
How neat and fabulous the pattern has come out? The vivid colors are attractive and when it's a quilt, bet your baby is going to have a good night's sleep.
Finished Jelly Roll Quilt with Fabric Quilts
How to Make a Jelly Roll Quilt
Jelly Roll Shortcut Quilt 1600
A quilt made from jelly rolls representing modern or abstract designs creates an eccentric effect no matter where you place it.
Strips and Squares Jelly Roll Quilt
You must have seen your granny making one of these when you were young and now it's your turn to spin off a similar one for your children.
Chevron Column Jelly Roll Quilt Free Pattern
A mix of vibrant chevron patches is a classy option for amplifying the look of your bedroom or even your little one's playroom.
The trendy quilt boasting of pleasant hues with a tranquil feel ideal for display in a contemporary interior setting.
Jelly Roll Stripe Sandwich Rainbow Quilt
Let the quilt artist in you work on a bedspread portraying VIBGYOR making your little princess smile when she cuddles under it.
Jelly Roll and Charm Pack Christmas Quilt
Charming Charm Jelly Roll Quilt Design
A cabin designed home longs for a rectangular quilt like this one fitting well on your little bed.
Sweet Baby Diamond Jelly Roll Quilt
Passionate quilting fanatics are surely going to get intrigued by the pattern that's more than a needle and threads.
Quick and Easy Jelly Roll Quilt
If you are yet to decorate your baby nursery, then this uniquely designed bedspread sums it up.
Simple Jelly Roll Quilting Pattern
Most would be appreciating the sleek look of the quilt oozing dollops of color when spread out on the floor, bed, or garden.
Jelly Roll Baby Quilt Tutorial
Batik Stained Glass Jelly Roll Quilt
Who is going to believe that it's a quilt? At the first glance, it looks more like a fantastic glass art pattern.
Jelly Roll Quilt: Sparkling Gemstones Pattern
The stitching expert can just sit for a few hours and make it. Surprise your better half when he enters the house and finds the charming comforter lying on the floor.
Honeycomb Hexagon Jelly Roll Quilt
Be a hipster while retaining the vintage feel whipping up a quilt bursting with hexagons and flowers.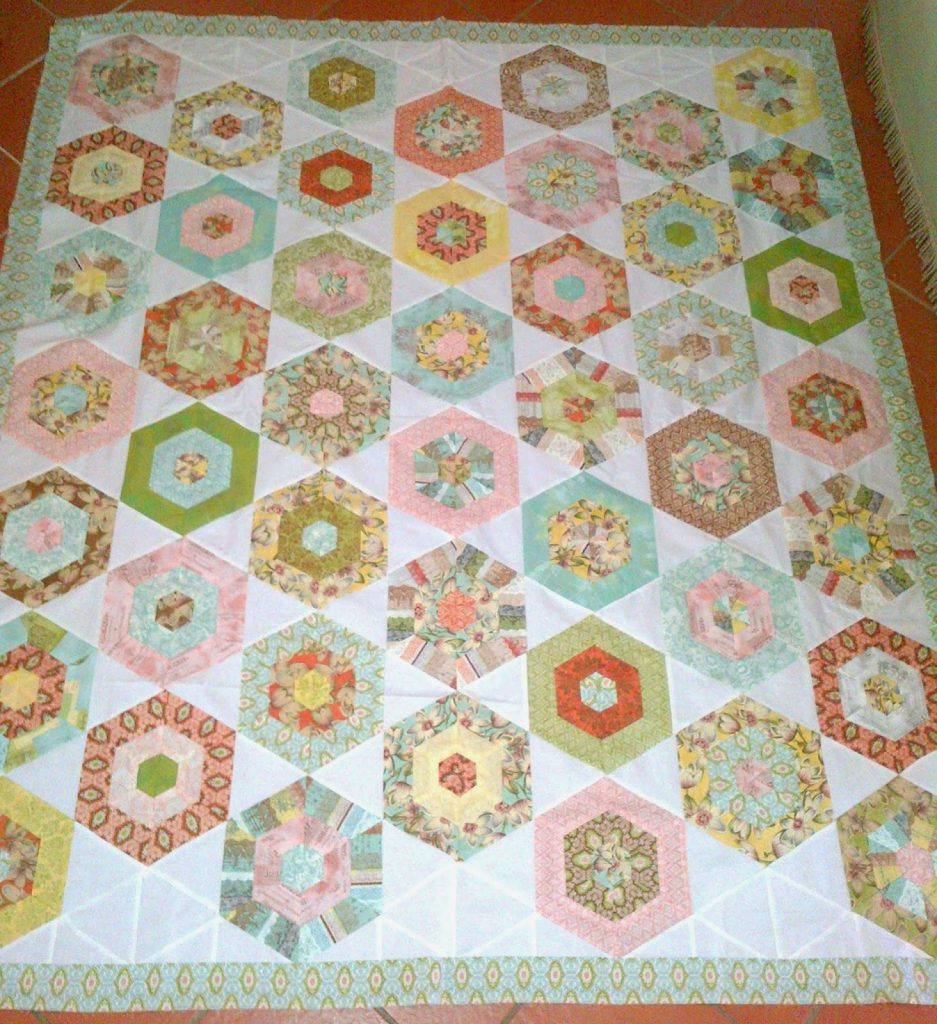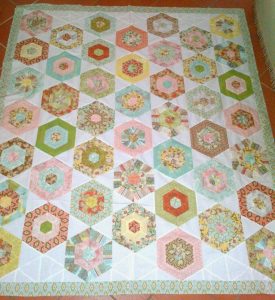 If you are a beginner, then this pattern would be most suitable as it's a simple one requiring less effort.
Apple Jack Jam Jelly Roll Quilt
Over the Rainbow King Size Jelly Roll Quilt
Log Cabin Jelly Roll Quilt using Scraps
The dazzling quilt is undoubtedly worth placing on a couch watching a favorite movie while munching popcorns.
Lasagna Jelly Roll Quilt Tutorial
Imagine the feeling you get wrapping up the beauty just before the arrival of winter.
The blues hues of the sea swirling around your feet at night can only be recreated with the subtle-designed quilt.
Jelly Roll Race Remix Queen Quilt
Be regal and empowered lying comfortably on your big bed covered with a gigantic quilt reading a nice romantic novel.
Jelly Roll 1600 Quilt Top with Spacers
The mix of pink and blue with square patches placed at regular intervals brings out the vibrancy in its organic form.
Easy Zig Zag Tutorial for Jelly Roll Quilt
Striped Chevron Quilt Top for Wedding
Indeed a visual treat, the chevrons have once again done its magic sewing up into a quilt worthy of tons of praises.
Rag Quilt Tutorial with Jelly Rolls
You will enjoy carrying out the different steps of quilting such as backing, binding, and finishing stitching up a warm bed cover for your dwelling. Be it machine or hand quilting, what matters is the selection of the jelly rolls. The rest can be dealt with as more than a dozen patterns (in fact a lot more) have been provided here.