11+ Ways of Making Glitter Wine Glasses
It's always great when it's glittery. Making glitter wine glasses may be a bit tiresome, but the more you make them, the more will you get wonderful ideas and the end results will be amazing.  With fancy glitter wine glasses, you can jazz up your evenings of celebration quite a lot. It adds to your creativity and at the same time, adorns your shelves at home.
The basic items which you will need to make glitter wine glasses are loose glitter, Mod Podge glass glue (to keep your DIY glitter wine glasses dishwasher safe and washable), paintbrush, painter's tape, and sealing spray to seal the glitter on wine glasses. Here are some handmade glitter wine glasses' ideas you can try out at home.
1. Unique Way of Making Glitter Wine Glasses
If you want to keep it minimal and smart, you could try this method. The process of glittering here is less messy and gives a neat and debonair finish.  This can also be an incredible glitter wine glass gift set.
It can get a bit messy and you may have to keep on trying until it looks perfect, but once the whole thing is done, you will be amazed to see how it great it looks. It can be made with simple stuff like thick glue, glitter and a paint brush. These DIY glitter dipped wine glasses are a great gift idea for anyone.
3. How to Make Glitter Wine Glasses for Special Events
Any special event will need a special attribute and you could make your next house party special by trying out this idea of glittering your wine glasses with quirky designs. These glitter covered wine glasses will definitely come across as an amazingly creative host. Once you get the basic idea, you can explore your creativity with glitter dipped wine glass tutorials.
4. DIY Instructions for Gold Glitter Dipped Stemless Wine Glasses
With toothpicks, rubber bands, glitter, and glue, you can make these cute stemless wine glasses look even cuter by adorning them with glitter, and these glitter bottom stemless wine glasses add to the elegance of your parties. These work great as gifts ideas, and by following the simple steps here, you can neatly glitter your stemless wine glasses.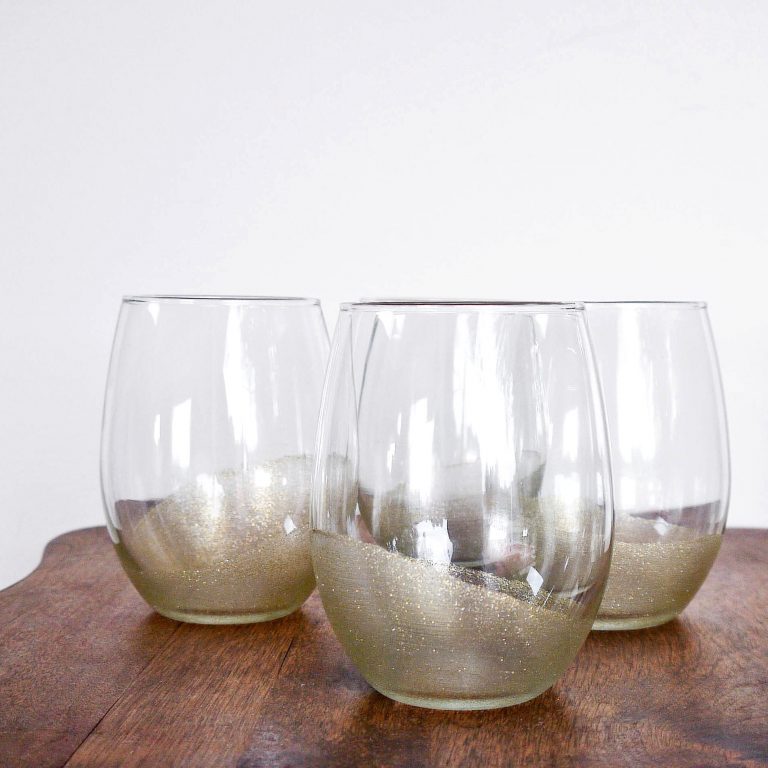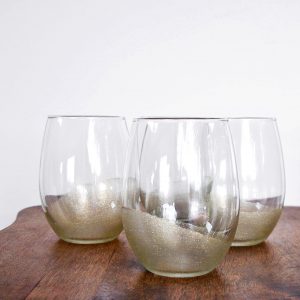 5. Personalized Glitter Wine Glasses
If you want to gift someone something special and meaningful, then this is the one for you. You can use glitters on a wine glass to write names on it and make it look gorgeous. It's easy to make and these custom glitter wine glasses are a great gift idea too. Be it for your mother on Mother's Day or for your loved one on Valentine's Day, personalized glitter wine glasses are always heartwarming as gifts. If someone you know is getting married, you can get them couple glitter wine glasses that have the words bride and groom inscribed on them. Glitter monogram wine glass is also a very innovative gift idea.
6. Glitter Stem Drip Wine Glass
This involves essentially a blend of two sparkles, and even though it might be a bit difficult job to do, the end result is amazing. This can be a cherry on top for all your house parties, and your guests will know that you have a knack for art. This idea for glitter stem wine glasses DIY will nurture your creativity.
7. Golden Glitter Dipped Wine Glass
This tutorial will help you make a very trim and tasteful glitter wine glass. It's an easy step by step process, and with a tape, you can measure just the amount of your wine glass you want to be dipped in glitter. This glitter dipped wine glass will be like a cherry on top for your party, and you can also try out the rose gold glitter to sparkle your wine glasses.
8. Pink and Other Colors for Glitter Wine Glasses
A lot of people are a huge fan of pink. Thus, glitter wine glass of this hue is a great idea for wedding gifts.  You can try embellishing the wine glasses with glitters of different colors too, like ombre or purple. Red glitter wine glasses are also a good idea for decorating your house.
9. Disney Themed Glitter Wine Glass
Want to bring your childhood back? Make your own favorite Disney character and decorate the stem with the glitter of your favorite color. It's a great idea for a birthday party for your kids, and they will love the new idea. It can be a Minnie Mouse glitter wine glass, Little Mermaid glitter wine glass or other Disney princesses' or a fairy themed wine glass. You can also try out other fictional or cartoon characters, like Harry Potter or a Minion or Wonder Woman, to put on your glitter wine glass.
Animal print glitter wine glasses are also a great idea for your kid's birthday party. You can try making a giraffe or a leopard print glitter wine glass. If it's a kitty party you're hosting, you can make a glitter lady wine glass.
10. Plastic Wine Glass with Silver Glitter
If you think glass could not be great for your party, you could try to jazz your party up with silver glitter plastic cups. They are easy to make, and you can be comfortable while making them too for plastic doesn't come with the risk of breaking. You can try the same thing with gold glitter or with glitter of any other color.
11. Glitter Wine Glasses for Christmas
As Christmas is the time to celebrate, you've got to add sparkles to the festivities. Decorate your wine glasses with glitters and sparkles, and you can use these for your Christmas and New Year's Eve parties. DIY Christmas glitter wine glasses will make your holiday party a great hit. These Xmas glitter wine glasses will call for a memorable festive season.
With the help of these ideas, you can make your glitter wine glasses, and personalize them for any occasion, be it a wedding, a birthday, or a close – knit house party. These DIY ideas will take you through the process of making various glitter wine glasses. It may seem a tad bit difficult and convoluted initially, but with practice, you will get better at this art.