14 DIY Ideas to Make an Easter Tree
Following the Swedish tradition of decorating your home or garden with Easter trees during the celebrated holiday, you can showcase your craft skills and be appreciated for them. Here are a few ideas with complete instructions to help you with the DIY. If you have the Easter tree outside, go for an exciting game of egg hunting.
This attractive Easter tree can be used as a centerpiece. You can decorate it with paper bunnies apart from the eggs and the ribbons.
The Christian tradition of resurrection is beautifully depicted through this classy Easter egg tree. The display stand can be placed on the dining table on the auspicious occasion.
3. Charming Easter Tree Decorations
You would be delighted to know that this cute Easter tree is decorated with fabric scrap eggs. Talk about recycling! You can wrap it with fairy lights for a grand light up tree.
You can decorate a Christmas tree for Easter to score high on your recycling quotient. The paper pinwheels look adorable on the Easter-themed Christmas tree.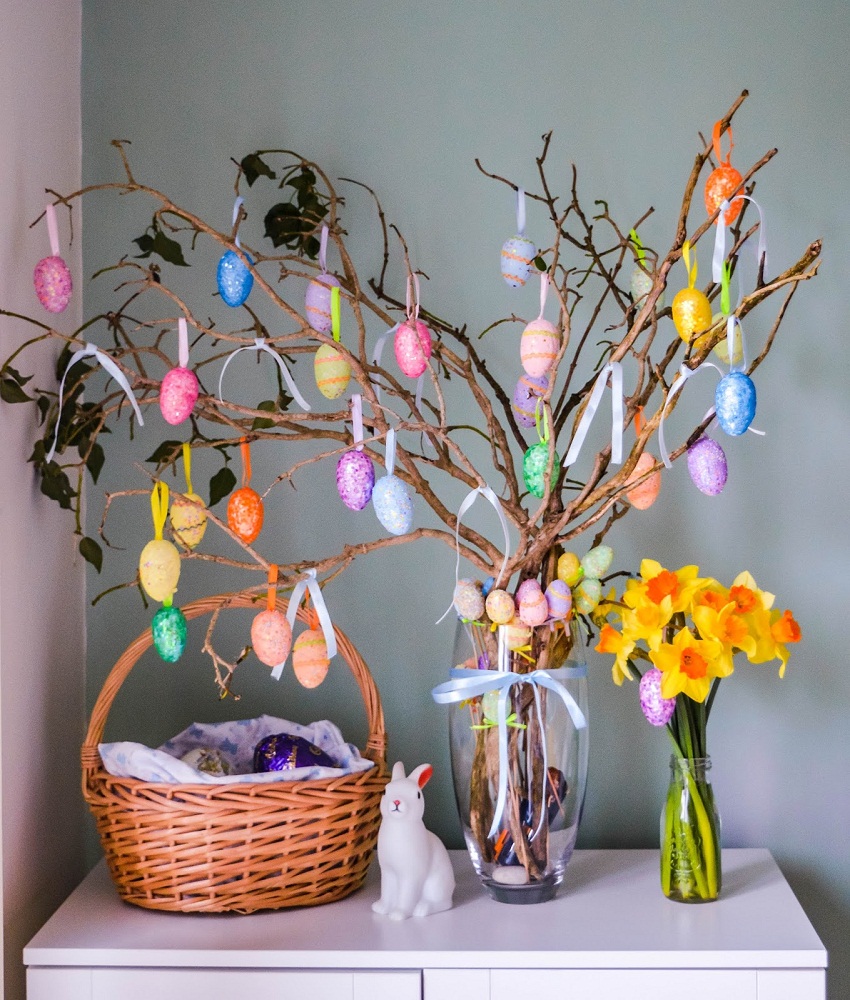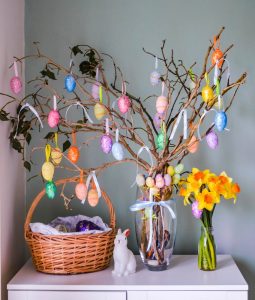 7. Easter Egg Tree DIY Instructions
8. How to Make an Easter Egg Topiary Tree
Wish your guests Happy Easter in style with this DIY Easter topiary tree. The white and brown egg decorations look enchanting.
9. Primitive Easter White Twig Tree
Get directions on how to make a twig tree for Easter by clicking on the above link. If you don't like it white, you can paint the wooden tree pink.
10. White Wire Easter Egg Tree
This artificial Easter tree is decked up with egg ornaments. The eggs can be of plastic, wooden, Styrofoam, etc. You can illuminate the wire tree with LED lights for bespoke drama.
11. Large Potted Easter Egg Tree
A big Easter tree would look beautiful on your tabletop during the festive season. If you want a decorative display outdoors to welcome your guests during Easter, you can hang colorful eggs from the branches of a tree in your garden. And if the tree has flowers, it would be the icing on the cake!
12. Make Your Own Easter Feather Tree
13. Easter Egg Carrot Cone Tree
A Styrofoam cone is used to replicate the looks of a carrot in this lovely craft tree. A combination of mini chocolate eggs and colorful plastic eggs jazz up the small tree.
14. Making a Small Easter Egg Tree
This small tree boasts of a minimalistic charm. You can just put together a few miniature branches for a mini Easter tree as well. It would look fabulous indoors.
We bet you would really love the lighted versions of the Easter trees, especially the x-mas one! The decorative white twig trees score no less with their looks. A primitive Easter-themed tree would look stunning in the yard of your house in the village. The alluring images would inspire you in the craft.