23 Cool Paper Mache Mask Ideas
Summer is all about enjoying the warm weather, indulging in savory ice creams, and attending a host of parties. It's even more fun when your kids are around, and together you all get into some fun holiday craft-making. Not tacky, paper mache paste is the ultimate ingredient for making various types of masks. Whether it is for the upcoming Halloween event or a costume ball night, the following DIY tutorials will motivate you to create some remarkable party favors.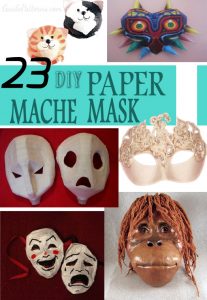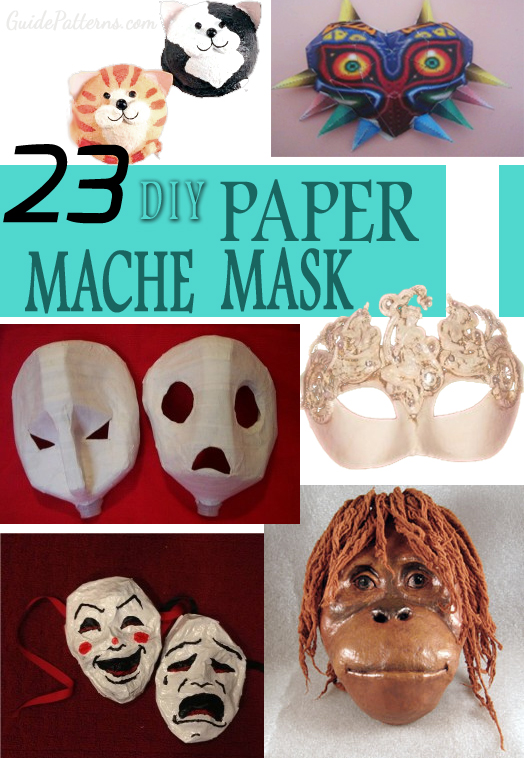 Wear a skull mask this Halloween season made out of paper mache paired with a creepy hooded cloak, expressing a gothic style.
Give wings to your imagination with alien paper mache masks inspired by the quirky characters of Star Wars. Few pieces of paper, a balloon, flour, and water are the only supplies you need for making a spooky costume.
Legend of Zelda Paper Mache Mask
Is your little boy glued to The Legend of Zelda video game? Why not overcome his solitary gaming addiction by crafting a funky Majora paper mache mask to enhance his creative skills?
How to Make Simple Paper Mache Mask
Embellish your doors and walls with drama paper mache masks adding a theatrical touch to your décor. Beautify the masks with unique glow-in-the-dark paints instead of the regular black and white and see the magic when the lights go off.
How to Make a Mask Out of Paper Mache
A winsome paper mache craft, this chirpy orangutan mask is apt for putting up plays at school by the children or just chasing their siblings for fun.
Sculpt an artistic mask with either a face or balloon as the mold. As it could get a bit unkempt, cover your work area with an old newspaper or a scrap tablecloth.
DIY Paper Mache Masquerade  Mask
Stun the crowd on the New Year eve party with the masquerade mask embossed with dazzling stick-on gems and small crystals. Attach an elastic band to the mask or a holding stick and swirl around with the mysterious look.
Deck up your little one for the fancy dress party with brightly-colored costume topped off with a cute cat mask made from paper mache. For some realism, you can add whiskers and fur to the little kitty.
The gory features of this ferocious wolf mask with sharp details are a fabulous work of paper mache art. Wear this display mask for making everyone jump out of their seats.
Turn yourself into a woodland fox with this handcrafted mask having sculpted ears and a cute pointed snout for some dress-up fun.
Are you fascinated by Miyu the Vampire Princess? For some mystery, spookiness, and fantasy use some paper mache to create this evil villain.
Plaque Doctor Paper Mache Mask for Kids
Using the traditional paper mache technique, make this plague doctor mask to scare the noisy neighbors on the eve of Halloween.
The phantom style mask painted in various hues of green with large horns is the perfect finishing touch to your Halloween ball attire.
Insert flameless LED tea lights behind the eerie mask, turning it into a glowing face on your wall or front door.
The alluring mask with classical features is surely going to make a lasting impression in everyone's heart on a masquerade event.
Chinese Lion Dance Paper Mache Mask
Here is another pair of classy comedy and tragedy masks that will remind you of the exquisite mid-century drama and art.   
Easy Spiderman Paper Mache Mask
An outlandish gift or outfit, the spider man mask will make your kid feel empowered and thrilled.
Creepy Halloween Paper Mache Mask
Step By Step Instructions for Paper Mache Mask
How to Make African Paper Mache Mask
Masquerade Mardi Gras Paper Mache Mask
Day of the Dead Mexican Paper Mache Mask
How to Make a Mask with Paper Mache
You'll be pleasantly surprised with these handcrafted creations. Pair the mask with a mind-blowing costume and some glam accessories on a themed party to take all the compliments. There are dozens of ways to adorn these masks that can be showcased as work of art or just worn for some fun and frolic.